These are our Poms that are looking for their furever homes. An adoption fee will be required as will a full application and a home check.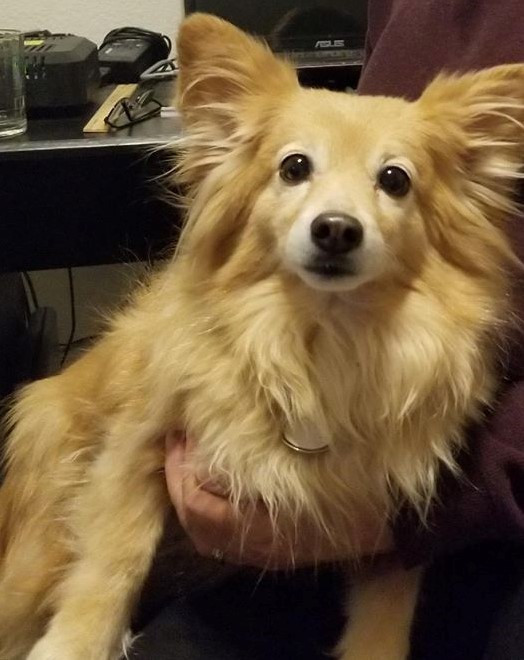 Boomer
It's time for Boomer! This lovely pommie mix was dealt a tragic hand when his family was forced to give him up. So he lost his entire family in one swoop. Boomer took the separation very hard and stayed in the office under the desk for around 5 days. But little by little he started getting curious and came downstairs. Now Boomer loves running up and down the stairs and hanging out with the family. He is still a little shy and really bonds with one person. In this case it is the male in the household. Six years young, Boomer would bloom with attention and walks. He has the most elegant snout and weighs around 12 lbs.
Boomer loves attention but is still very shy. He does bark a lot when you leave the house so he needs to be in a house. FULLY house trained, Boomer will make a great new best furry friend. He does not really interact with the other dogs so probably would do best as the only fur kid or maybe with a shy dog.
Schedule:
6:30 AM wake - up: Go outside and potty
7:00 AM breakfast
6:00 PM dinner
9-10:00 PM bedtime
He is fixed on and has all of his shots and is chipped.
Eats dry food and wet food mixed together. Wet food is Nulo and dry food is Lucy's Duck and Potato limited Formula.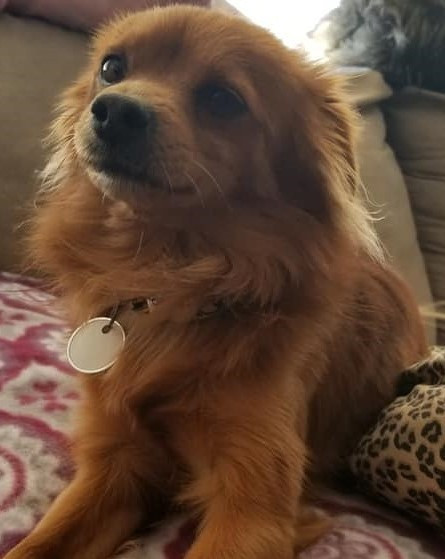 Browney
OH THAT BROWNEY! What a lovely sweet Pom/Chi/Italian Greyhound mix! Energetic and loving this lovebug with thoroughbred legs wants to be your furever furry family member! Three years young, Browney spent the majority of his life either outside or in his crate. BUT now he is a very spoiled loving youngster. He loves to snuggle with you in the bed, watch TV in your lap and run around the back yard. Browney used to want to escape from the yard, but with his gaining confidence and with attention he does not seem to want to run off. "HE HAS NOT TRIED TO ESCAPE ONCE!!"
He does get along with other dogs, but would do best with a low key dog. He loves to play fetch. BUT sometimes he does not always bring it back to you. 😂😂
He is learning how to go potty both outside and on the pads and is doing very well! Very treat oriented to please.
Schedule:
6:30 AM wake - up: Go outside and potty
7:00 AM breakfast
11:00 AM potty break
6:00 PM dinner
9-10:00 PM bedtime
Sometimes he gets nervous riding in the car in his carrier and did pee on the way to the Vet but I am sure with time and experience this will stop. LOVES squeaky toys!!
Eats dry food and wet food mixed together.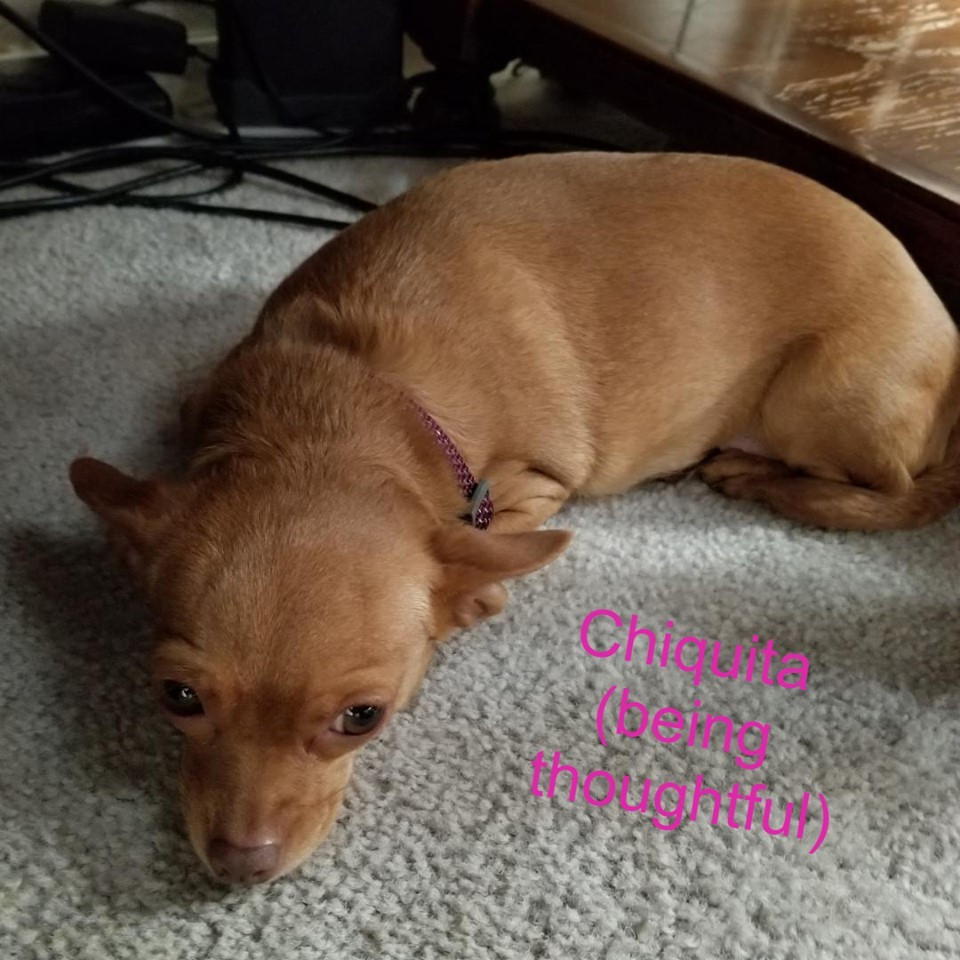 Chiquita
 Little Chiquita is ready to find her furever home! She is a shy sweet little female chihuahua. How did she come to check into the Pom Palace? Her former family were moving back to the UK and could not take their dogs with them. This is for sure...Chiquita has given birth to puppies but now she is fixed. She was SUPER shy and still is. It has taken her around 2 months to come out of her shell. But now Chiquita runs up and down the stairs and loves to be held. In the morning she will wake you up with little doggie kisses! If you are looking for a companion, she loves to be with you wherever you are in the house and loves to burrow under the covers!
This little gal is 5 years young and is housebroken. Just like many dogs when the doorbell rings, she is on the alert and barking just in case you didn't hear it.
Her former diet was pet food from Smith's and Purina! NO WAY Chiquita! Now she eats healthy! Lucy Pet Duck and Potato Grain Free Limited Ingredient Diet Formula™ with the advanced P.B.F. Prebiotic Balanced Fiber™ along with Fresh Pet (chicken.) All her treats are made from healthy ingredients and none have Corn Syrup!
Schedule:
6:30 AM wake - up: Go outside and potty
7:00 AM breakfast
11:00 AM potty break
6:00 PM dinner
9-10:00 PM bedtime
Current on all shots, spayed, and microchipped. We do not adopt out dogs under 15lbs to homes with children under the age of 8.